Sydney seaplane crash: Wreckage to be recovered from river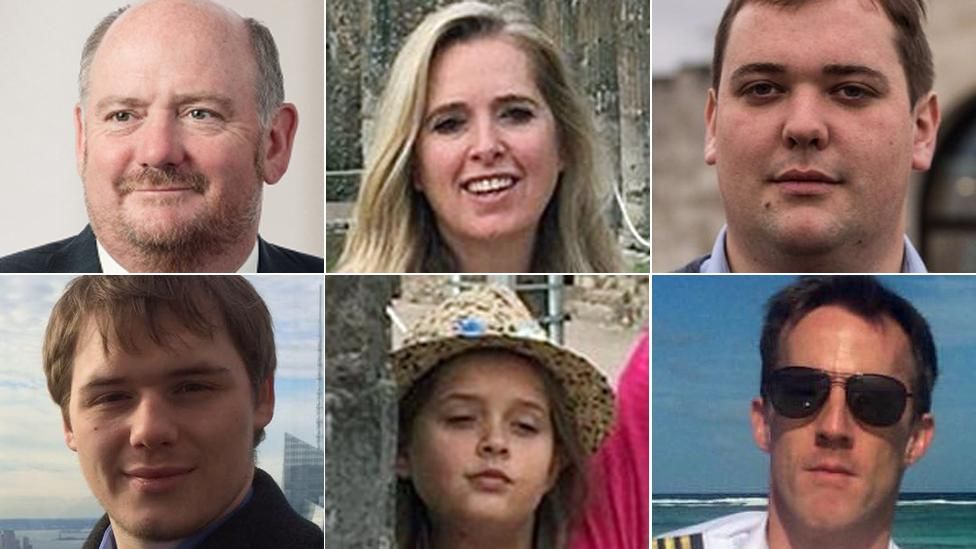 A seaplane that crashed and killed six people - including five Britons - is expected to be raised from an Australian river this week so it can be forensically examined, authorities say.
The cause of the New Year's Eve crash north of Sydney is not yet known.
It claimed the lives of Compass Group chief Richard Cousins, four members of his family, and a Sydney-based Canadian pilot. There were no survivors.
Investigators will release a preliminary report in about 30 days.
"The full sequence of events leading up to the accident is not fully understood at this stage," said Australian Transport Safety Bureau (ATSB) executive director Nat Nagy on Tuesday.
Mr Cousins, 58, died alongside his fiancée, magazine editor Emma Bowden, 48, her 11-year-old daughter Heather, his sons, Edward, 23, and William, 25, and pilot Gareth Morgan, 44.
The family, from Tooting, in south-west London, were flying back to Sydney from an exclusive waterfront restaurant in Jerusalem Bay, about 50km (30 miles) away.
The single-engine aircraft belonged to sightseeing flight company Sydney Seaplanes, which offers scenic flights over local tourist attractions.
Mr Nagy said investigators planned to use airbags or a crane to recover the De Havilland DHC-2 Beaver from the Hawkesbury River, about 50km north of Sydney, sometime this week.
The investigators will comb the aircraft's components and instruments, speak to witnesses, and conduct checks on the operator and pilot's flying history.
They will also investigate whether other items on board, such as mobile phones, could provide additional clues.
"The key goal for us is to keep the aircraft as intact as possible so we're able to investigate," he said.
He would not speculate on the cause of the crash, saying investigators were still piecing together a timeline.
This would include determining whether the plane was operating at full power, ascending or descending, and how much weight it was carrying, he said.
The model of plane was generally reliable, he added.
Mr Cousins was head of one of the world's largest catering companies, the FTSE 100 firm Compass Group, and a big cricket fan.
On Tuesday, former England captain Michael Vaughan joined others in paying tribute.
"Saddened to hear of the passing away of Richard Cousins and some family members in Sydney ... Great man who loved the game of cricket ... Thoughts to all his family," he tweeted.
Sydney's Daily Telegraph reported the Barmy Army, a group of supporters of the England cricket team, planned to conduct a minute's silence at the Sydney Test, beginning on Thursday.
The bodies of the six victims were recovered on Sunday evening.
The UK Foreign Office said: "We are providing consular assistance to the families of five British tourists who have sadly died in a seaplane accident near Sydney. Our sympathies are with their families and friends at this difficult time."