Australia gay marriage: Gay senator Penny Wong's tears of joy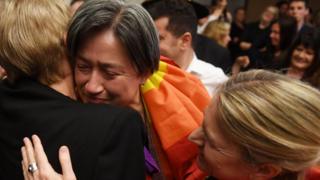 As Australia decisively voted to support gay marriage, the historic poll was both a political victory for senator Penny Wong and a deeply emotional personal moment.
The country's first openly gay woman in parliament and cabinet, Ms Wong was overwhelmed as the result came in.
The non-binding vote showed 61.6% of people favour allowing same-sex couples to wed.
Awaiting the results in the Senate committee room, cameras were following her every move.
When the results were finally read out, the opposition senator put her head in her hands and started to cry with joy.
As friends and colleagues rushed over to congratulate her, she remained visibly shaken by the moment she played a key role, along with members from other parties, in bringing about.
Ms Wong was not only the first openly gay woman in parliament but also the first openly gay member of cabinet when Labor was in power.
Through IVF, she and her partner have two young children and during the campaign in the run up to the gay marriage vote, she had to defend her family from being used as an example by opponents to gay marriage.
More than 12.7 million people - about 79.5% of eligible voters - took part in the poll. The issue had only gone to a voluntary postal vote after a long and bitter debate about changing the law.
The vote is non-binding but Prime Minister Malcolm Turnbull said his government would now aim to pass legislation in parliament by Christmas.