Australia dual citizenship saga: Court hearings conclude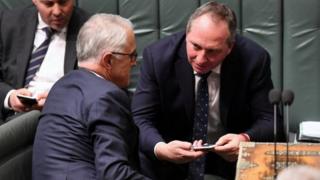 The political fate of seven Australian MPs embroiled in a dual citizenship saga remains unclear after a court finished three days of hearings.
The High Court of Australia will rule whether the constitution makes the group ineligible for office because they were dual nationals when elected.
On Thursday, Chief Justice Susan Kiefel did not set a date for the decision.
If Deputy PM Barnaby Joyce is ruled ineligible, the government could lose its one-seat majority in parliament.
However, Mr Joyce could be re-elected if there is a by-election in his seat, having renounced his New Zealand citizenship in August.
Chief Justice Kiefel said the court would make a decision "as soon as possible", adding that immediate rulings were not always possible.
Unlike Mr Joyce, a House of Representatives member, the six other politicians facing scrutiny are current or recently resigned senators.
They are Fiona Nash and Matt Canavan, both from the government, and Malcolm Roberts, Nick Xenophon, Larissa Waters and Scott Ludlam, all from minor parties.
The hearings began on Tuesday and heard arguments from all seven MPs, the government, and an independent challenger, former MP Tony Windsor.
The government argued that only Mr Roberts and Mr Ludlam should be disqualified because they "voluntarily obtained, or retained" their dual status. The others were unknowing recipients, they said.
Much debate concerned whether ignorance of a second citizenship is sufficient grounds for eligibility under the constitution's Section 44(i).
The citizenship revelations began in July when Mr Ludlam announced he was a New Zealand dual citizen, prompting dozens of MPs to check their own status.