The rising profile of football in Australia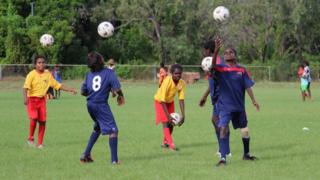 The Socceroos have won an all-or-nothing clash against Syria, meaning their World Cup dream is still alive. Qualification would be a boon for Australian football, but excitement isn't limited to the men's team, as Phil Mercer reports.
In the burning heat of Australia's Gulf of Carpentaria, even cut feet and blisters can't dull the passion of tropical Borroloola's young indigenous footballers.
They bleed for the game they love, and ache in the hope that their country can once again qualify for next year's World Cup in Russia.
Reaching the 2018 finals has become tortuous for fans of the Socceroos, who have qualified for football's biggest global party three consecutive times since 2006.
Borroloola, an outpost of about 1,000 people on the McArthur River in the Northern Territory, is one of the many beating hearts of grassroots football in Australia.
"Our kids have been playing with bare feet here on the concrete and gravel and it is 34C here at the moment. They just love it," explains John Moriarty. He runs training camps for indigenous children that link football to education and good health, as well as opportunities in sport.
Moriarty was the first indigenous player to be selected for Australia, and although he never played for his country, he hopes many others will.
"It is my dream to have some of our kids playing for the Matildas [Australia's women's team] and the Socceroos. The World Cup will help develop that," he said.
"In 2014 we were able to get four boys and four girls from Borroloola to Brazil for the World Cup. The World Cup just brings about magic within the community and with individuals to better their own lives."
After a failure to progress through one of four automatic places in the Asian Football Confederation, Australia, coached by Ange Postecoglou, beat Syria 2-1 in Sydney on Tuesday.
This means the team will be on the plane to Russia if it triumphs in yet another nail-biting play-off against Honduras next month.
Australia's first appearance at football's most spectacular show was in West Germany in 1974. But decades in the wildness followed, and supporters would have to wait more than 30 years before tasting that World Cup thrill again thanks to John Aloisi's sweetly struck spot-kick against Uruguay in Sydney in November 2005.
"Everyone in Australian football knows about that penalty," said Luke Wilkshire, capped 80 times by the Socceroos and a veteran of two World Cups. He is now with Sydney FC, the reigning champions of the A-League, Australia's decade-old professional competition.
"Back in 2006 at the World Cup you saw football really grow (in Australia) with the A-League," he told the BBC. "It's gone from strength to strength and long may that continue. Every time you play for the national team was a great moment, but the first World Cup - the first game - was a very special moment.
"We need to be at the World Cup. It is vital for football in Australia. Hopefully everything will go well for the Socceroos and we'll see them next year in Russia."
Football in Australia has feasted on World Cup success. Its profile and reputation have soared. So have participation rates, especially among Aussie kids, and there are almost 250,000 women and girls playing the game across the country.
The government's AusPlay study, released in December last year, found football is the nation's popular club sport.
But a failure to make it to Russia could cost the game millions of dollars, according to the Sydney Morning Herald.
Champion international Australian striker Lisa de Vanna told the BBC it would be "devastating" if the Socceroos were denied a spot at next year's finals.
But there is another increasingly powerful force driving the round ball game down under - the national women's team. In July, the Matildas made history when they beat the United States, the current number one-ranked nation.
It was the first time the Aussies had defeated the reigning World Cup winners, and they went on to win the Tournament of Nations. Then followed two home victories over Brazil in September, with the first in Sydney attracting a sell-out crowd.
De Vanna was a goal scorer that day and believes Australia's elite women are an integral part of a football revolution.
"Everyone is jumping onboard and wanting to know about the Matildas," she said. That bandwagon could become supercharged if Australia wins the right to host the women's football World Cup in 2023.
"We are playing some really good football and that's what Australians like, they like winners," the long-serving centre-forward added.
Losers, though, can often expect little sympathy, and the pressure is building on Ange Postecoglou.
Former players have called for his sacking, but the under-fire coach has insisted he remains committed to the cause for now. Ex-Socceroos goalkeeper-turned-TV pundit Mark Bosnich insisted the coach's team selections were "astounding".
But Graham Arnold, the mastermind of Sydney FC's domestic domination, believes there is no need to panic.
"The whole country is behind the Socceroos," he said. When asked by the BBC if a failure to qualify for the 2018 World Cup would be a significant blow to the game at home, he responded in a typically forthright manner.
"Mate, you shouldn't think like that. We will qualify."