Cardinal Pell to face March hearing on sex assault charges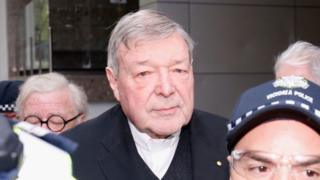 Cardinal George Pell will return to an Australian court in March to defend himself against sexual assault charges.
The Vatican treasurer, 76 is accused of historical assaults involving "multiple complainants" in the state of Victoria.
He has strongly denied any wrongdoing. His lawyer has said the cleric will plead not guilty to all charges.
On Friday, a court in Melbourne heard that up to 50 witnesses could give evidence during a committal hearing from 5 March.
At that hearing, expected to last four weeks, a magistrate will decide whether there is enough evidence for the case to proceed to a trial.
Details of the accusations against Cardinal Pell have not been released.
His barrister, Robert Richter QC, said he intended to prove that "what was alleged was impossible".
Cardinal Pell opted to appear in person at the Melbourne Magistrates' Court administrative hearing on Friday, despite not being required to do so.
---
Intense interest
Hywel Griffith, BBC News in Melbourne
This hearing wasn't the subject of the same media frenzy as Cardinal Pell's first court appearance in July.
But with global interest in the case, even a brief procedural matter drew dozens of reporters, camera crews and protesters.
As Cardinal Pell arrived, he needed a large police escort to guide him through the throng.
Inside, supporters and critics of the cardinal were waiting, some of whom had queued outside since 05:00 to be certain of their spot.
Within minutes the hearing was over, and the cardinal needed the same police escort to work his way back through the crowd.
This will become a familiar routine when Cardinal Pell returns for the lengthy hearing in March, when once again the camera lenses will be trained on his every step.
---
Earlier this year, he said: "I am innocent of these charges, they are false. The whole idea of sexual abuse is abhorrent to me."
He returned to Australia to contest the charges after being granted a leave of absence from the Vatican.
As Vatican treasurer, Cardinal Pell is considered the third-ranking official in the Catholic Church.