Could dual citizen row threaten Australia's government?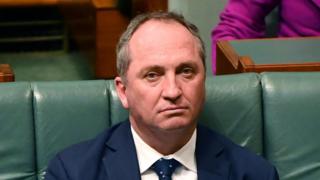 A dual citizenship saga that has captivated Australian politics for three months will be debated in the nation's highest court from Tuesday.
It will test the cases of seven parliamentarians who held an additional citizenship when they were elected last year.
Under Section 44(i) of Australia's constitution, politicians cannot stand for federal office if they are "a subject or citizen of a foreign power". However, some argue the rules are not clear-cut.
If some or all of the politicians are ruled ineligible, it could have significant consequences for the government.
Whose case is the most crucial?
Deputy Prime Minister Barnaby Joyce, who learned in August that he had inherited New Zealand citizenship at birth, will draw the greatest interest.
Mr Joyce is a member of the House of Representatives, which determines government. At present, Prime Minister Malcolm Turnbull has only a one-seat majority in the lower house.
The other politicians under citizenship scrutiny were elected to the Senate.
The government argues that only MPs who "voluntarily obtained, or retained" dual citizenship should be ineligible.
What happens if he is ineligible?
Mr Joyce would lose his seat, prompting a probable by-election.
Having renounced his dual citizenship in August, Mr Joyce would be free to contest a by-election and he would start as frontrunner.
Alternatively, the court could order a recount of last year's election votes, redistributing those won by Mr Joyce and electing a runner-up. However, most experts say this scenario is unlikely.
If Mr Joyce did not retain or reclaim his seat, Mr Turnbull's numbers in the 150-seat parliament would drop from 76 to 75.
This means he would oversee a minority government and rely on independent MPs to pass legislation, making his life harder.
In that case, could the government fall?
That prospect is not realistic, Australian political experts have told the BBC.
Even without Mr Joyce, Mr Turnbull would still have six more seats than the Labor opposition, which has 69.
To force a change in government, every independent and opposition MP would need to join a vote of no confidence - an unlikely prospect.
"You can't just bring down governments on the floor on a whim. There would have to be something seriously wrong," said Antony Green, an election analyst for the Australian Broadcasting Corp.
He explained that as meaning an additional, severe justification - such as evidence of corruption, of which there is none.
"Even if Barnaby Joyce is defeated, the government would be in a stronger position than the [Julia] Gillard government was in any period of their three years," he said.
Ms Gillard formed a minority government in 2010 with only 72 seats, after winning the support of four independent MPs.
"It [losing Mr Joyce] would be uncomfortable for the government but would not bring the government down or cause a new election," said Rodney Smith, a politics professor at the University of Sydney.
What about the six other 'dual citizen' MPs?
As senators, the other politicians - if ruled ineligible - would be replaced by members of their own party.
The government does not have a majority in the Senate, so this would not necessarily make its position more difficult there.
When will we know?
The High Court of Australia hearing will run for three consecutive days from Tuesday.
A ruling could come as early as Thursday, but legal experts say it could also take longer - possibly even weeks - if the court decides that is necessary.