Australia NRL final: Macklemore derides 'gay anthem' ban calls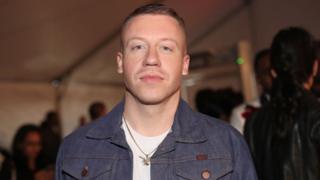 US rapper Macklemore has hit back at calls in Australia, including by former PM Tony Abbott, to ban the singer from performing his pro-gay anthem Same Love at the nation's rugby league final.
Australians are currently voting in a non-binding survey on whether to legalise same-sex marriage.
Mr Abbott, a vocal same-sex marriage opponent, said the National Rugby League (NRL) should not be politicised.
Macklemore said he would "go harder" in response to any opposition.
He told US radio that he was going to perform the song at the "Superbowl of their rugby" as Australia underwent "interesting times".
"I'm getting a lot of tweets from angry old white dudes in Australia," he said on The Cruz Show.
Mr Abbott's tweet opposing the song has generated much discussion in Australia, and drawn criticism.
One of Mr Abbott's party colleagues, Attorney-General George Brandis, called the opposition "bizarre" - noting Same Love was one of Macklemore's biggest hits.
"I thought Mr Abbott believed in freedom of speech," Mr Brandis told the Australian Broadcasting Corp.
More than 85,000 fans and a huge television audience are expected to watch the NRL Grand Final in Sydney on Sunday.
A petition by former player Tony Wall to ban "the event [being] heavily politicised with a LGBTIQ anthem" has gathered more than 7,500 signatures.
However, the NRL has reiterated its support for same-sex marriage and said the performance will go ahead.
Australia's two-month national survey ends on 7 November. If it shows support for legalising same-sex marriage, the government has promised to debate changing the law.
Opinion polls have suggested a majority of Australians support same-sex marriage.
Last week, Mr Abbott was allegedly head-butted by man wearing a "vote yes" badge. His accused attacker later denied the incident was about same-sex marriage.