Australian restaurant draws controversy over hanging cow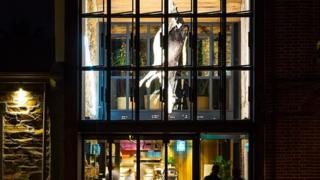 An Australian restaurant has drawn controversy for hanging a taxidermied cow from its ceiling to raise debate about eating animals.
The dairy cow has been strung up by its hind legs over dining tables at Etica restaurant in Adelaide.
The challenging installation has sparked a backlash online, where it has been dubbed "obscene" and "disgusting".
The owners of the pizza restaurant say the display makes diners think about "the realities" of consuming meat.
"The pose of Schvitzy, as she was affectionately known, is purposely confronting. She has not been hung for decoration," Federico and Melissa Pisanelli said in a statement.
"The installation has a mission: it aims to draw a connection to the true consequence of consuming dairy."
The recently opened restaurant, which serves meat and dairy products, was designed to look like a slaughterhouse with glass walls.
After the eight-year-old Friesian-Hereford cow was slaughtered, its meat was "entirely consumed", the owners said.
More than 4,500 people have supported an online petition calling for the carcass be taken down, while many have also expressed criticism on the restaurant's Facebook page.
"This is unspeakable, atrocious, and shocking to see," the petition reads.
"[It] creates a space for people to get more comfortable with the death and torture of other species."
Mr Pisanelli told the BBC the installation had also drawn many positive responses since the restaurant opened three months ago.