Australian reporter Ben McCormack admits child porn charges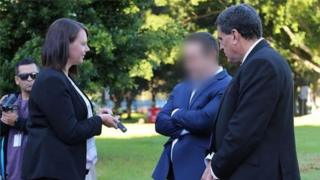 A prominent television reporter in Australia has pleaded guilty to two child pornography charges.
Ben McCormack, 43, was arrested in Sydney in April. He was immediately suspended from the local Nine Network's A Current Affair programme.
Mr McCormack faces up to 15 years in jail after admitting two offences in a Sydney court on Tuesday.
They related to dozens of text messages he sent to another man over a two-year period.
"The communications amount to child pornography," a statement of facts tendered to the court said.
"The accused was using the user name 'oz4skinboi' and during the communications outlined his sexual interest in young boys."
The text messages, sent between April 2015 and February 2017, included Mr McCormack referring to himself as "a total b loving pedo".
Mr McCormack's lawyer, Sam Macedone, said his client did not exchange images of child pornography.
"It was nothing more than fantasy talk," Mr Macedone said outside court.
The Nine Network said it has since accepted the resignation of its 25-year employee.
Mr McCormack will face another court hearing on 6 October.