Tony Abbott's daughter appears in 'Yes' ad for gay marriage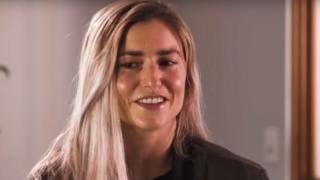 A daughter of former Australian PM Tony Abbott has become the face of a new advert urging the nation to legalise same-sex marriage, putting her at odds with the views of her father.
Mr Abbott is one of Australia's most prominent same-sex marriage opponents.
The nation is currently holding a non-binding survey on whether to change its law to allow same-sex couples to wed.
The ex-PM told local media he respected the right of his daughter, Frances Abbott, to hold a different view.
Ms Abbott, 26, appeared in the advert for Australian Marriage Equality released on Tuesday.
"It's well known that within my family we have people that sit on the other side of the fence," she says in the video.
"It really just doesn't make sense to me that it is not allowed."
Mr Abbott's sister, Christine Forster, is a high-profile same-sex marriage advocate who has often sparred with her brother on the issue.
In the advert, Ms Abbott speaks of wanting to see Ms Forster marry her partner, Virginia Edwards. She also pays tribute to Mr Abbott and her mother, Margie, for raising her to stand up for her beliefs.
Mr Abbott, a vocal figure in the No campaign, has repeatedly urged Australians to vote against same-sex marriage.
"If you don't like same-sex marriage, vote No. If you're worried about religious freedom and freedom of speech, vote No. If you don't like political correctness, vote No," he said earlier this month.
However, he defended his daughter's right to appear in the advert.
"Margie and I raised strong and independent women as Frances clearly demonstrates," Mr Abbott told the Australian Financial Review.
"While I disagree with her, I respect her right to have a different view."
Mr Abbott denounced the "nasty" nature of the Yes side's campaigning last week after he claimed he was head-butted in Tasmania by a man wearing a 'Vote Yes' badge.
However, the 38-year-old alleged assailant, who has been charged, said his attack had nothing to do with same-sex marriage and that the incident was driven by his "pure hatred" for Mr Abbott.
Last week, a man was charged with punching the godson of former prime minister Kevin Rudd in a dispute over same-sex marriage.
Prime Minister Malcolm Turnbull said earlier there was "zero tolerance" for violence and disrespectful conduct.
In recent days, both Yes and No campaigns have attracted anger for sending out unsolicited text messages.
The two-month voluntary survey will conclude on 7 November, with results to be announced eight days later.
Mr Turnbull, a same-sex marriage supporter, has promised a non-binding bill will be introduced to parliament if a majority of Australians favour changing the law.