'Dress day' donations pour in after politician's criticism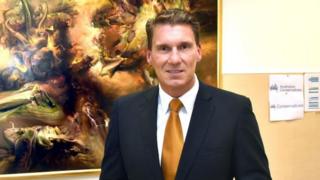 Donations to an Australian school's "wear a dress day" charity drive have skyrocketed after the event was criticised by a Conservative senator.
Craigburn Primary School in Adelaide encouraged its students to wear a dress or casual clothes to school to raise funds for girls' education in Africa.
Cory Bernadi criticised the event as "absurd" and "gender morphing".
The post sparked a backlash online and supporters have now raised more than A$180,000 (£132,000; $142,000).
The school's original target had been A$900.
The primary school was taking part in the Do it in a Dress charity campaign to raise money for African education.
It said that "for a gold coin donation students and staff can come to school wearing a 'dress or casual clothes'."
"The money raised will go towards providing teachers, equipment like books and pencils, making schools safe for children to attend and providing an education so that girls can look forward to a positive future."
Mr Bernardi, leader of the Australian Conservatives, tweeted a link to the school's statement, saying: "This gender morphing is really getting absurd."
The post drew the attention of prominent Australian comedian Josh Thomas who accused Mr Bernardi of bullying the children. He donated $2,000 to the cause, and encouraged his followers to chip in.
The site has attracted hundreds of donations since.
Federal education minister Simon Birmingham also criticised Mr Bernadi's comments.
"The idea of coming out and condemning a program that is trying to raise money for girls in Africa who don't go to school is of course appalling," he said.
Mr Bernadi has been standing by his comments, saying the event was inappropriate and said the school was "playing into a political cause".
Gender education in Australian schools has become a controversial subject amid the debate on legalising same sex marriage.
A national postal survey on whether the law should be changed is currently taking place.
Opponents have said in their campaigning that doing so would affect sex education in schools, forcing them to teach about homosexuality and gender diversity. Supporters of the "yes" vote have said this is not true.