Australian Labor party rejects 'racist' advert claim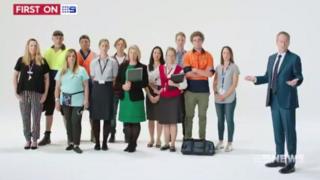 Australian Opposition Leader Bill Shorten has admitted making a "bad oversight" over a party advert that was accused of being racist.
Mr Shorten's centre-left Australian Labor Party (ALP) vowed to "employ Australians first" in the advert released on Sunday.
However, the video was widely criticised for the people it chose to feature, a majority of whom were white.
Mr Shorten denied racism, but conceded the video lacked diversity.
Another Labor frontbencher, Anthony Albanese, described the advert as a "shocker" and said it should "never have been produced".
Immediate backlash
The video featured Mr Shorten criticising his political opponent, Prime Minister Malcolm Turnbull, over domestic job opportunities.
But discussion quickly turned to who was pictured alongside Mr Shorten.
The government accused Mr Shorten's party of trying to appeal to conservative voters, while left-wing Greens politician Sarah Hanson-Young said the video was "just awful".
Mr Shorten dismissed accusations of racism as "rubbish", but said his party would show more diversity in future.
"I've had a look at the final production and I think we should have had more diversity in it and I will be speaking to the Labor Party about that," he said.
Mr Albanese said he had not seen the advert before it aired on the local Nine network.
"I think anyone who sees it knows exactly what's wrong with it," he said.