Wild Oats XI forced to quit Sydney to Hobart race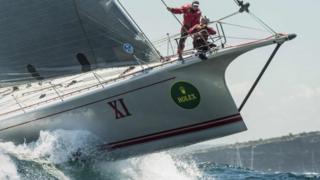 Eight-time winner Wild Oats XI has been forced to quit the Sydney to Hobart yachting race due to a broken hydraulic ram, organisers say.
Wild Oats later confirmed this, tweeting that "most importantly all crew onboard are safe".
The shock announcement came as the supermaxi yacht was in the lead.
It is a second consecutive year that Wild Oats XI had to retire from the gruelling 630-nautical-mile (1,167km) race.
In 2012, the crew set a new record by crossing the finishing line in one day, 18 hours, 23 minutes and 12 seconds,
Four yachts have so far withdrawn from this year's race, leaving 84 in the running.
Perpetual Loyal is currently leading the fleet by more than 15 nautical miles.
"We saw them [Wild Oats XI], they were just a couple of miles down," Perpetual Loyal navigator Tom Addis told the Sydney Morning Herald.
"We called them on the radio to make sure they were safe or sound, we were worried they might have lost somebody overboard or something but they're all good. It's sad for them."
The accident happened as the yachts entered the Bass Strait, which separates mainland Australia from the island of Tasmania.
The race is due to end in the Tasmanian port of Hobart early on Wednesday.