Daniel McConnell: Australian underwear 'hero' wins millions of fans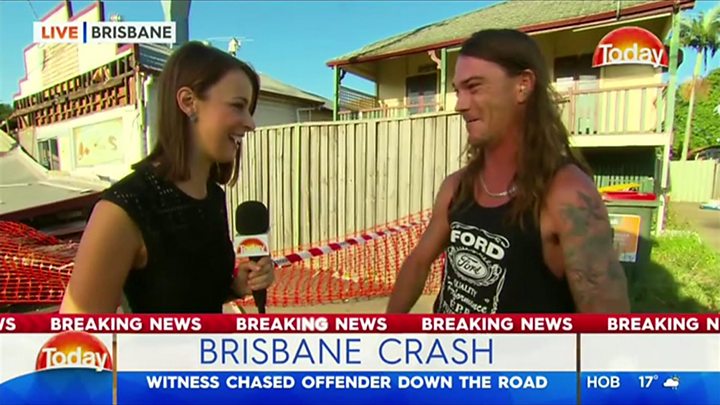 An Australian man has shot to fame after telling how - dressed only in his underwear - he chased a driver who crashed into a shop.
Daniel McConnell leapt from bed after the smash in Brisbane, Queensland, in the early hours of Thursday.
He said he followed the driver, who fled the scene, before giving police directions to apprehend him.
"I was just chasing him in me jocks," Mr McConnell said in a TV interview viewed millions of times online.
He said his wife first heard the crash at the neighbouring fish and chip shop, which is run by his friend's mother.
"I come outside in me jocks, and I've seen old mate… and I said, 'oi, what are you doing there mate, you gotta wait here,' and he's like, 'nah, nah, I fell asleep behind the wheel,'" Mr McConnell told Australia's Nine Network.
"He just started taking off, so I've run inside, jumped in me little purple car, and started chasing him up the street.
"He went down a side street, and I told the coppers he went down a side street, and they went and got him."
Mr McConnell has been widely praised on social media for his actions and colourful turns of phrase.
Some even suggested he be given a bravery award, or promote an underwear brand.
One Nine presenter dubbed Mr McConnell "Australian of the year" at the end of the interview.
Another asked him: "You know all good superheroes wear their underwear on the outside?"
Mr McConnell replied: "Yeah, but I had nothing on but me jocks."
A 35-year-old man has been charged with unlicensed driving and is expected to appear at Brisbane Magistrates' Court on January 31.