Sinkhole swallows car and passengers in South Australia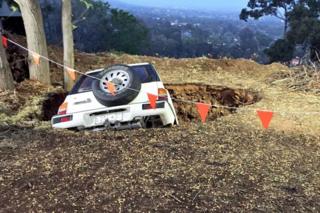 A South Australian couple were left "shaken" after they and their car were swallowed by a 3m-wide sinkhole.
According to local residents, the driver and passenger were sitting inside the car taking in the view in the Adelaide Hills when the earth gave way underneath them.
The vehicle is believed to have been parked above an abandoned mine shaft, excavated more than 150 years ago.
SA Police said the pair were shocked but not seriously injured.
They managed to get out of the car themselves. Council workers arrived on Wednesday to remove the vehicle with a crane.
Local woman Helen Behrens told The Advertiser newspaper said the couple had knocked on her door on Tuesday saying they had had an accident.
"They were pretty shaken up. They phoned the police and as soon as they got here," she said.
A neighbour, Neville Sharpe, also told the newspaper the couple were quite distressed.
"The lass had bruises as she'd tried to get out when the car was going down and it had bruised her neck and her back," he said.
In August, a 8m-wide sinkhole opened up in an elderly couple's backyard in Ipswich, west of Brisbane.