South Australia storms leave state without power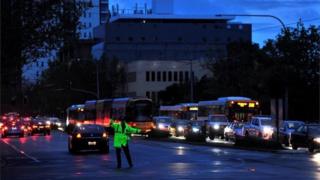 Fierce storms and lightning strikes have left the entire state of South Australia without power overnight.
Trains and trams were halted and traffic lights knocked out of action as one of the most ferocious storms in decades swept across the state.
Officials said damage to key facilities near the city of Port Augusta had forced the grid to shut down, and 1.6m people were left without power.
South Australia's premier said 80,000 lightning strikes were recorded.
This was an "unprecedented weather event", Jay Weatherill added.
Electricity has begun to be restored to the state capital, Adelaide, with full services expected to be back on by later on Thursday.
Adelaide saw traffic gridlock as officials struggled to restore power. South Australia's police commissioner declared a "major incident" in the state and people were asked to stay at home if possible.
All flights out of Adelaide airport were temporarily grounded. Liam Shorte, who was hoping to fly to Sydney, tweeted a picture of passengers waiting amid a blackout.
He later said his flight had been scheduled to depart but added: "All boarding tickets had to be printed or handwritten as apps and readers all failed."
Some people tried to make light of the situation.
SA Power Networks, which operates the electricity system in the state, said that it believed the problem started when its infrastructure in the Port Augusta area was damaged in the storm.
But the loss of power was not the only effect of the storm as it crossed the city. Adelaide investment adviser Jed Richards tweeted that he had seen lightning starting a fire in North Adelaide.
There were reports that mobile phone coverage had also been disrupted.
Some had a difficult journey home including director Emma Berry who tweeted a picture of flooded streets in her neighbourhood.