Australian police urge mooning enthusiasts to 'keep pants on'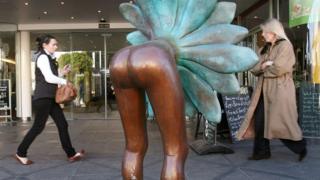 Victoria Police have urged Australian mooning enthusiasts to keep their pants on or risk criminal charges.
A group has called for a protest at Parliament on 8 October against legislation banning baring your buttocks.
The tongue-in-cheek event, scheduled one day after the full moon, calls for the right to bare bums.
Police said: "The only moon we want to see on Parliament House is the 8 day old moon in the October lunar cycle."
An amendment included in an overhaul of sexual offence laws specifically bans "mooning or streaking". First-time offenders face up to two months in jail while repeat offenders could spend six months behind bars.
Disgruntled mooners set up the protest as a Facebook event on Monday.
"Following the recent banning of the royal moon in Victoria, we have decided to show our [disgust] and [devastation] of this new law," the group said on social media.
However, Victoria Police responded asking the members to keep their pants firmly around their waist.
"We suggest keeping your pants on and shut this page down or potentially risk criminal charges," the Facebook post by Victoria Police read.