Australian dad's car towed over son's burnout videos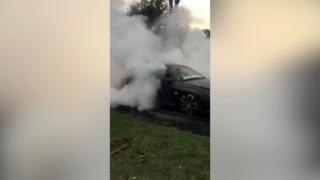 An Australian father who filmed himself teaching his five-year-old son to do burnouts has had his car impounded.
Alex Dobson posted videos of the boy in sole control of a modified sports car at their home in Queensland.
The videos, which went viral, show smoke pouring off the rear tyres and the stationary vehicle surging in the driveway as the boy grips the wheel.
Police are investigating if charges can be laid since the incident apparently took place on private property.
The videos were posted on Facebook on 21 September with the caption: "When your 5-year-old says... Dad, can I do a burnout? Sure son, no worries."
One has clocked up more than four million views and attracted thousand of comments expressing both praise and outrage.
"Guess who's doing a burnout? Go, go" Mr Dobson says.
"All by himself. Hell yeah, buddy. That's my boy."
"Look, there's no one in the car with you. High five."
A burnout involves keeping the brake on a car while accelerating, so the spinning wheels burn from the friction.
Mr Dobson's car - his "pride and joy" - was seized by police on 24 September and child protection officers have been notified.
He told the Nine Network that he had been taking his son to burnout competitions since he was born.
"He knows a hell of lot for a five-year-old child," Mr Dobson said.
"He's not your average five-year-old,"
He said he was beginning to regret posting the video "because of how far it's gone and the consequences" but denied putting the boy in danger.
"No way would I ever put my child's life at risk," he said.