Oz magazine co-founder Richard Neville dies aged 74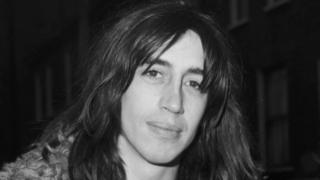 Richard Neville, the co-founder of 60s counterculture magazine Oz, has died aged 74, his family says.
The Australian author died in the coastal town of Byron Bay in New South Wales surrounded by relatives.
Oz was launched in Sydney on April Fool's Day in 1963, before Neville took it to the UK.
Known for tackling taboo topics like homosexuality, abortion, police brutality and censorship it sparked the UK's biggest obscenity trial.
In a statement posted on Facebook, Neville's wife, Julie Clarke Neville, wrote: "Our wonderful Richard has gone on to his next adventure."
Oz co-founder Richard Walsh told the Australian Broadcasting Corp that Neville had been suffering from Alzheimer's and his death was not a shock.
"I'm glad that he has finally come to the end of the yellow brick road," he said.
He said Neville had been "charming in the right sense of the word. He just loved people of all kinds".
High-profile trial
Neville founded Oz with Walsh and artist Martin Sharp in 1963. The magazine twice faced legal charges of obscenity.
He then travelled to London to establish a British version of the magazine, but in 1971 went on trial for corrupting the morals of children.
The high-profile 1971 trial saw Neville and two other editors - Felix Dennis and Jim Anderson - jailed. They were freed on appeal after a huge public outcry.
Neville went on to cover American elections for British newspapers - working as a freelance journalist for the New York Times, the High Times and the Soho News.
He also wrote several books including Play Power and Hippie, Hippie Shake.
He is survived by his wife and two daughters, Lucy and Angelica.