New Zealanders top list of Australian immigrant detentions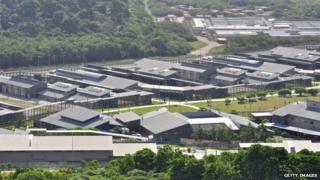 New Zealand nationals now make up the largest group of detainees being held in Australian immigration detention, the latest government statistics show.
As of June 30, 199 New Zealanders were being held out of a total of 1,577 detainees.
Australian laws mean any criminal imprisoned for a year or more can have their visa cancelled.
Last year, New Zealand PM John Key said the issue was undermining the close relationship between the two countries.
After New Zealanders, Iranians, Vietnamese, Sri Lankans and Chinese nationals were the largest groups of detainees.
'Cruel policy'
British detainees were the 9th largest group, with 53 people from the UK held, according to figures released by the department of immigration and border protection.
Greg Barns, a lawyer who has worked for detainees from New Zealand, said the policy was "cruel".
"What's tragic is that we are seeing young people in particular who've been born in Australia, spent all their lives in Australia, made mistakes but started to get their lives back together. Then being told, 'you have to move back to New Zealand'," he told Radio New Zealand.
The numbers of New Zealanders detained began to rise after strict new laws were passed in late 2014.
Australia has been criticised for its tough immigration policies, including mandatory offshore detention for asylum seekers arriving by boat.
The statistics showed 1,296 people were being held in "Regional Processing Centres" in Papua New Guinea and Nauru that rights groups say are totally inadequate and harming detainees.
Earlier this week, rallies were held in major Australian cities after graphic footage emerged of children allegedly being abused at juvenile detention centres.