'Psychic' crocodile predicts Australia's election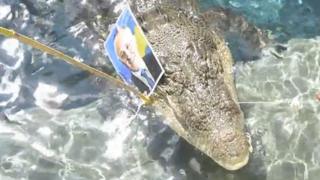 A notorious tabloid newspaper claims a "psychic" crocodile has predicted the outcome of Australia's election.
The Northern Territory News is famous for its lurid front-page stories featuring UFOs, horny ghosts and especially crocodiles.
Ahead of this Saturday's election, the paper hung pictures of Australia's two main political leaders on poles baited with fish guts.
These were dangled into the enclosure that houses Burt, a 5.1m crocodile.
Burt momentarily latched on to Opposition Leader Bill Shorten, but after a moment of cold-blooded deliberation decided Prime Minister Malcolm Turnbull would win the election.
"The bookies suggest he's onto a winner," said Matt Williams, the newspaper's editor.
"Burt's brain may only be the size of a walnut but he's one smart beast."
Burt resides at the Crocosaurus Cove wildlife park and played a starring role in the classic Australian film Crocodile Dundee.
He is the latest in a long line of "psychic" animals, the most famous of which was Paul the octopus, who correctly selected the outcome of seven of Germany's 2010 World Cup matches.