Australia sentences 30 Vietnamese illegal fishermen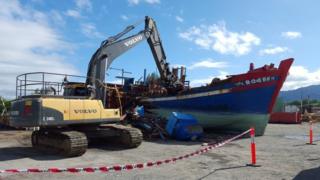 Thirty Vietnamese men convicted of fishing illegally in Australian waters have been given suspended sentences by a Darwin court and had their boats destroyed.
They had been caught with six tonnes of sea cucumber in a Coral Sea marine reserve off the north coast in June.
The men all pleaded guilty in court on Tuesday.
The Australian Fisheries Management Authority (AFMA) said the sentences sent a strong message.
Australia has seen a sharp drop in illegal fishing since increasing maritime surveillance in recent years.
The sentences ranged from two months for the crew to five and seven months for the ships' masters. They were also issued with good behaviour bonds.
"Illegal fishing threatens the economic viability and sustainability of Australia's well managed marine resources," said AFMA official Peter Venslovas.
"The convictions and destruction of the vessels are a good result and will send a very strong message to all those considering illegally fishing in Australian waters."