Ex-Australia PM John Howard praises UK Brexit decision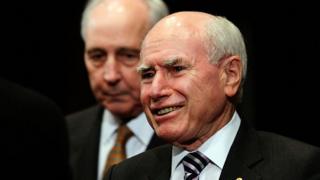 The architect of Australia's tough immigration policies has voiced his approval for the UK's decision to leave the European Union.
Former Australian prime minister John Howard said the UK had the right to choose who settled within its borders.
Concerns over immigration were a key motivator for many Britons who voted to leave the EU.
Proponents of the Brexit have called for an Australian-style points-based system to select migrants.
"It was the only way in which they could regain control of their borders and regain control of things that are fundamental attributes of an independent nation," Mr Howard told Sky News Australia.
---
The story of a country torn apart
Brexit's uncharted territory: Can the EU save itself?
Eight reasons Leave won the UK's referendum on the EU
---
In a 2001 re-election speech, Mr Howard famously said Australia would "decide who comes to this country and the circumstances in which they come".
He enacted the so-called Pacific Solution, which allowed asylum seekers arriving by boat to be transported to offshore centres and prevented from reaching Australian soil.
The policies were politically popular and lowered the number of asylum seekers arriving in the country by boat, but were criticised by human rights groups.
Nearly 10 years after he left office, both Australia's ruling Liberal-National coalition and the opposition Labor party support tough immigration policies.
"One of the great attributes of sovereignty is to be able to decide who comes to your country," Mr Howard told Sky News.
"It is not a rejection of immigration. In fact, it's a reaffirmation of the nation's determination to decide, as I declared and argued and as the current government does, that we'll decide who comes, the numbers, where they come from and what skills they bring with them," he said.
Mr Howard said the result of the referendum was also proof of the failures of the European Union.
"This was a dramatic reminder to all political leaders around the world that, if you live in a democracy, you've always got to listen very carefully to what people are saying and thinking over a long period of time."
Australia's points-based immigration system grants visas to migrants based on their ability to contribute to society by measuring their personal attributes and placing a value on their occupational talents.
Leaders from the "Leave" campaign, including Boris Johnson, have advocated for the adoption of a similar system in the UK.