Australia surfer dies after Mandurah shark attack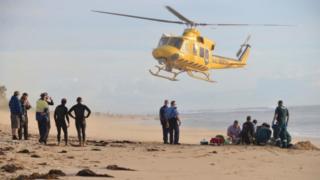 A surfer who lost his leg in a shark attack in Western Australia last week has died, police say.
Ben Gerring, 29, was in the water near Mandurah, south of Perth, when the attack occurred on Tuesday afternoon.
Western Australia Police said Mr Gerring's injuries were too severe to overcome and he died on Friday night.
On Thursday, a 4.2m (14ft) great white shark was captured near Mandurah, but it is not known if this shark was to blame for the attack.
"He was right out the back looking to get a big wave, one of the set waves that had been coming through during the day," Brian Williams, president of the Mandurah Boardriders Club and friend of the victim, told ABC on Tuesday.
"He'd sort of paddled out the back, sort of past the pack slightly. And next thing all hell broke loose and they were trying to bring him in.
"His board was broken in half, they found the tail part of his board," Mr Williams said.
Surf Lifesaving Western Australia had reportedly issued a warning before the attack, after an unknown species of shark was seen in the area.