Olympian Michael Diamond 'drove drunk with shotgun'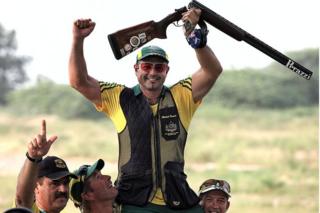 Australian shooter Michael Diamond allegedly gave a blood-alcohol reading more than three times the legal limit after police arrested him with a shotgun and ammunition in his car.
Police said Mr Diamond was involved in a domestic dispute prior to his arrest on Saturday night.
The 44-year-old trap shooter won gold medals at the Atlanta and Sydney Olympic games.
He has been charged with high-range drink driving and weapons offences.
According to local media reports, Mr Diamond is alleged to have refused to undergo a road-side breath test after he was stopped by police north of Newcastle in New South Wales state.
He later returned a blood-alcohol reading of 0.159 at a police station.
The blood-alcohol limit for drivers in Australia with a full licence is 0.05.
Mr Diamond was granted bail to appear in court next month. The dispute was with his brother, who has taken out an apprehended violence order against him, according to the Australian Broadcasting Corp.
His place in the Australian team for the upcoming Rio Olympics was already in doubt after another shooter challenged his selection in the Court of Arbitration for Sport.
Mitchell Iles argues that he shot the benchmark score of 121 from 125 targets more times than Mr Diamond and another shooter, Adam Vella.