The picture of Australian minister too 'unflattering' for Twitter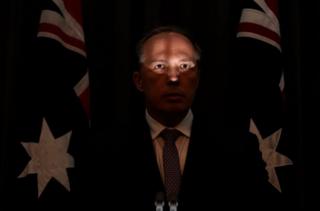 When this photo of Australia's immigration minister, Peter Dutton, appeared online, his team said it was too "unflattering" and asked for it to be taken down.
But Twitter wasn't happy with this request and the picture went viral.
Photographer Alex Ellinghausen from Fairfax Media in Australia took the picture at a press conference and his colleague, reporter Stephanie Peatling, then tweeted it.
After Mr Dutton's team asked for the picture to be removed, Ms Peatling deleted her tweet but that did not stop others creating memes of the original photo.
In Australia, 'Peter Dutton' was among the top trending topics on Twitter as 9,000 tweets were posted about the politician.
In a blogpost, Ms Peatling explained why she deleted the tweet showing the original picture. She wrote,
"Mr Dutton's office felt it was 'unflattering' and demanded to know why I had tweeted it.
I tweeted it with the caption 'Eek' meaning that if I were a press secretary to Mr Dutton I wouldn't be thrilled to see the picture.
Mr Dutton's offsider took considerable umbrage with it and most strongly protested its presence on the socials.
After one of those conversations where both parties say the same thing over and over again I agreed I would take it off Twitter so long as I could say they asked me to do so."
But despite it being removed, social media has a way of just not letting go...