Stabbed British backpacker knifes Sydney sex attacker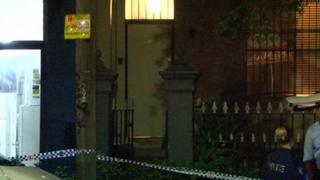 A British backpacker fought back with a knife after she was allegedly stabbed repeatedly by her housemate in Sydney, police say.
Police told reporters the injured woman, 23, found a knife and stabbed the man who had tried to sexually assault her.
The woman is in hospital and expected to undergo surgery.
The alleged attacker, a 27-year-old from Mexico, is being held in hospital under guard.
Police allege that he forced his way into the woman's room to assault her on Tuesday. When she resisted, he returned with the knife and stabbed her.
"Obviously her survival instincts kicked in and she was able to remove herself from the situation," Det Insp Despa Fitzgerald told reporters on Wednesday.
"It's just lucky [the knife] didn't hit a major artery in those alleged attacks, and for him as well.
"Our understanding is they weren't well known, they were possibly acquaintances but we're still trying to work that out."
Police believe the man has been in Australia for about four weeks.
Witnesses said they heard screams coming from the inner-city boarding house around 15:00 AEDT (04:00 GMT).
Police made an appeal to travellers to stay safe when sharing accommodation with people they do not know well.