Australian accused of torching Fayed's former Ferrari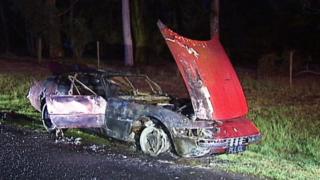 An Australian man is accused of torching a Ferrari once owned by Princess Diana's boyfriend Dodi Fayed.
A Melbourne man and two women were arrested on Thursday, four months after police found the burning car, which was worth more than A$2m ($1.5m; £1m).
The vintage car was one of two Ferraris allegedly stolen from a repairer.
The women were released without charge, but the man, named by local media as Kane Ridley, faced court charged with a string of offences including arson.
The court heard on Friday that Mr Ridley, who was remanded in custody, was likely to suffer drug withdrawals in jail.
The vehicles were reportedly stolen in just four minutes, after the alleged thieves rammed a roller door to enter the business in the suburb of Braeside.
Pink Floyd's Roger Waters and band mate Nick Mason are reportedly previous owners of the vehicle, which now belongs to a Melbourne restaurateur.