Australia Labor leader Shorten calls rival a 'homophobe'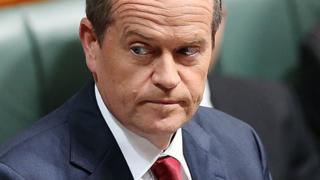 A tense exchange between two rival Australian politicians has ended with one calling the other a homophobe.
Opposition leader Bill Shorten was criticising Senator Cory Bernardi's push to cut a school anti-LGBT bullying program when Mr Bernardi walked past.
When Mr Bernardi called Mr Shorten "a fraud", the Labor leader retorted, "At least I'm not a homophobe".
Mr Bernadi later issued a statement calling on Mr Shorten to "get out of the leftist quagmire".
"It's disappointing that the so-called leader of a political party can only resort to name calling instead of addressing the merits of any political policy debate," Mr Bernadi said.
"His ill-advised quip was a direct insult to millions of Australians who are concerned about the quality and content of material being provided to schools via Federal government funding."
The conservative politician says sexualised elements of the A$8m ($5.7m; £4m) scheme are inappropriate.
He wants it abandoned due to fears it will "indoctrinate children into a Marxist agenda of cultural relativism".
The Safe Schools program was introduced by the previous Labor government with the aim of stopping LGBT bullying in schools.
Safe Schools Coalition Australia says around 500 schools are involved in the program designed to achieve "safe learning environments", "better diversity" and "well-being for students".
Prime Minister Malcolm Turnbull ordered a review of the program on Monday following Mr Bernardi's criticisms.