Australia outback crash kills two, driver dies separately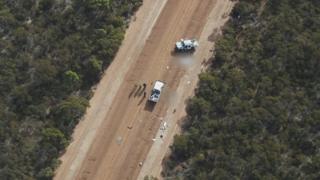 A man who survived a crash that killed his two friends on a remote Australian highway died hours later from injuries unrelated to the accident, police said.
Local media reported that the man was driving the car when it crashed and later took his own life.
The men from New Zealand, aged 24 to 25, were on a hunting trip and not wearing seat belts, reports said.
Their families have reportedly arrived in Australia to arrange for their bodies to be flown back.
Police said they were preparing a report for the coroner.
The men were named by Australian and New Zealand media as Kadin Wallace, Jeremy Vergeer, and Dylan Sherriff, and were reportedly working on farms in the Esperance region.
Kadin Wallace, who was believed to be driving, survived the crash but is understood to have taken his own life before emergency services arrived, according to the Sydney Morning Herald.
Mr Vergeer got engaged just weeks ago and was the father of a child from a previous relationship.
His fiancée, Lauren Withers, posted a message to social media describing him as "my soulmate, my best friend, my everything".
"The future seemed so promising for us... 2016 was going to be the best year for us, buying our first home, getting married and moving to NZ to start our family," Ms Withers said.