Johnny Depp 'invited to stay' by Australia's new deputy PM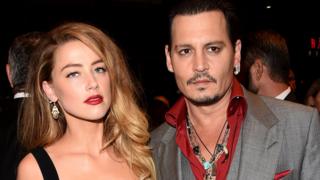 Actor Johnny Depp says he will return to Australia despite a feud with new Deputy Prime Minister Barnaby Joyce.
In a case dubbed the "war on terrier", Depp's wife Amber Heard faces charges of breaching Australia's strict Quarantine Act for failing to declare the couple's dogs, Pistol and Boo.
Ms Heard had indicated the pair would avoid Australia because of Mr Joyce.
But Mr Depp now says he has been "invited to stay" at the newly-elected deputy prime minister's house.
"Of course, I love Australia," he told journalist Emma Dallimore on the Grammys red carpet on Sunday.
"Absolutely, [I will come back] ... I think that guy Barnaby? He invited me to stay at his house, for some reason."
The case sparked global attention after Depp's pet terriers were threatened with being put down by then agriculture minister Joyce.
Mr Joyce had said in an interview last year: "If we start letting movie stars, even though they've been the 'sexiest man alive' twice, to come into our nation, then why don't we just break the laws for everybody? It's time that Pistol and Boo buggered off back to the United States."
Under strict Australian laws, dogs entering from the US must be declared and have to be quarantined.
---
Can you take your dog to Australia?
Yes, but only if it came from an approved country, is not pregnant and is not a banned breed or domestic/non-domestic hybrid
The dog must first be fully vaccinated and microchipped before it can get an import permit
Within 45 days of travel it has to test clear for diseases including Ehrlichia canis, Leptospirosis, rabies and parasites
Five days before travel it must be health-checked by a government-approved vet in the export country
On arrival it must go into government quarantine for a minimum of 10 days on arrival, longer if it is seen as coming from a riskier country or it shows signs of ill-health
Private jets are subject to the same regulations as any other vessel or aircraft
Source: Australian Department of Agriculture
---