Turnbull defends Abbott's address to US Christian group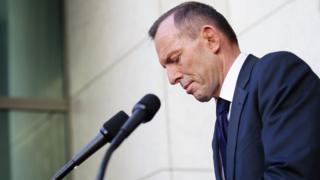 Australian Prime Minister Malcolm Turnbull has defended his predecessor's decision to address a conservative Christian group in the United States.
Deposed leader Tony Abbott is expected to give a speech to the Alliance Defending Freedom (ADF) in New York this week about his views on marriage.
The ADF group supports the pro-life movement and opposes same-sex marriage.
Mr Turnbull said the former prime minister would "probably find he's talking to people with similar views".
"There are fellow members of the Coalition who have different views and they are entitled to express them," he said.
"I respect their right to do so, just as they would respect my right to disagree with them."
The ADF said Mr Abbott "aligned" on some of the group's issues.
"I think they thought he would be an interesting fella to hear from, so they invited him to come," ADF spokesperson Bob Trent told AAP news agency.
Mr Abbott has confirmed he will attempt to stay in parliament at the country's next federal election.