Turnbull lays wreath in Washington ahead of Obama talks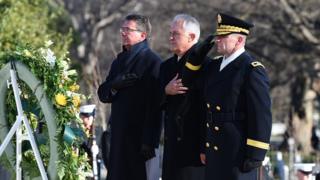 Australian Prime Minister Malcolm Turnbull has laid a wreath in Washington ahead of talks with US President Barack Obama on Tuesday.
They are expected to discuss a range of issues including the Islamic State (IS) group, the Trans-Pacific Partnership (TPP), and the South China Sea dispute.
Fresh from high-level talks in Iraq and Afghanistan, Mr Turnbull gave a speech in Washington on global security.
He urged faster action by the coalition to combat IS online messaging.