Australia police search for UK man after bridge jump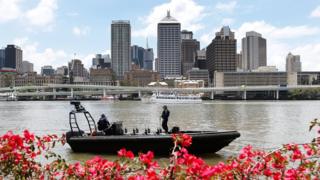 A British man is missing and feared drowned after jumping off a bridge in Brisbane, Australia on Sunday night.
The man, 30, and three friends had been drinking nearby before going to the William Jolly bridge for what police said was "a drunken stunt".
Witnesses saw him fall about 10m (32ft) into the river - he briefly resurfaced before disappearing beneath the water.
His companions, who decided not to jump, alerted authorities who launched a water and aerial search.
The search operation continued overnight and throughout Monday, but the man, who has not yet been named, has not been seen since.
Inspector Sean Cryer told a press conference in Brisbane the men appeared to have gone to the bridge "for a bit of fun" and to cool off.
"It's a very sad event obviously," he said, adding that "jumping off a bridge into a river is a silly thing to do, and we'd warn against it".
The Australian Broadcasting Corporation said the man had been working in Australia, and that his family in the UK had been notified.
The UK Foreign Office confirmed that authorities in Brisbane were searching for a British national who had been reported missing.
"Consular staff are in contact with the family in the UK and are offering support at this difficult time," it said in a statement.