Crocodile that ate Australia woman's arm destroyed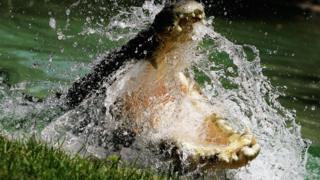 A 2.2m (7.2ft) crocodile that ripped a woman's arm off in north-west Australia has been killed.
The woman, in her 60s, was sitting by a creek at Wyndham when the saltwater crocodile attacked her.
She was flown by the Royal Flying Doctor Service to Darwin and remains in hospital in a stable condition.
Wildlife authorities told the BBC that traps were deployed to capture the "problem crocodile".
"Because this crocodile attacked a person and was in an area used by people and pets, it was imperative that we removed it and we ensured that it was destroyed quickly and humanely," Parks and Wildlife district wildlife officer Peter Carstairs said in a statement.
Media reports said the woman's arm was severed just above her elbow.
WA Today said the woman the woman initially refused help from passing drivers because she "didn't want to get blood on [their] car".
"She was standing on the side of the road just shocked... She's lived here a long time, hopefully she's alright," a Wyndham man, Paul Cavanagh, was quoted as saying.
The population of saltwater crocodiles in Australia's north is estimated at between 100,000 and 200,000 adults.