Bushfire threatens lives, homes in Western Australia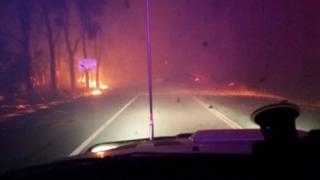 Lives and homes are under threat from a fast-moving bushfire sparked by lightning south of Perth.
West Australian fire authorities said it is too late for some residents in Waroona area who have not yet evacuated to leave.
They said the "out-of-control and unpredictable" blaze was burning along the South Western Highway.
Strong winds overnight fanned the flames which reportedly started in the Lane Poole Reserve on Wednesday.
Waroona resident Melissa Young told the Australian Broadcasting Corp. she left her home when she saw the glow of the fire.
"The glow is scary enough... and the ash is coming into the backyards and into the fences, and the smoke's getting really thick so it was just time to get out," she said.