'Mad witch': Minister mistakenly sent offensive SMS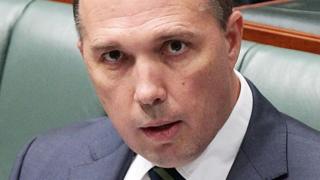 Australia's Immigration Minister Peter Dutton has reportedly apologised for mistakenly sending an SMS to a journalist, calling her a "mad witch".
Political reporter Samantha Maiden said the offensive text, which also contained strong language, was intended for disgraced ex-minister Jamie Briggs.
She said Mr Dutton apologised for the message about her article referring to Mr Briggs' recent resignation.
The BBC has approached Mr Dutton's office for comment.
He reportedly told News Corp in a statement he is expecting a "tough time" in Ms Maiden's next article.
"Sam and I have exchanged some robust language over the years so we had a laugh after this and I apologised to her straightaway, which she took in good faith," Mr Dutton was quoted as saying.
Former Cities Minister Jamie Briggs resigned last week following a complaint from a female public servant over his alleged conduct during a night out in Hong Kong.