Aurora Australis: Solar flares light up Australian skies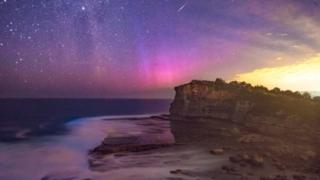 Photographers on the east coast of Australia have captured incredible images of the Aurora Australis.
The atmospheric event, which is the Aurora Borealis' southern counterpart, occurs when cosmic rays or solar wind interact with earth's upper atmosphere.
One photographer who captured images of the light show, David Magro, lives just north of Sydney on the New South Wales Central Coast.
Mr Magro told the BBC he had been hunting the Aurora for several years.
"I was by myself in the pitch black and I zoomed in, and [then] jumped up into the air and [started] talking to myself," he said.
"I was over the moon, I couldn't believe this was happening."