Man charged for Australian toddler's murder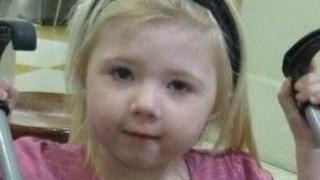 A 41-year-old man has been charged with murdering two-year-old girl Khandalyce Kiara Pearce, say Australian police.
The remains of Khandalyce and her mother, Karlie Pearce-Stevenson, were found in 2010 in a high-profile case.
Local media say the man is the same person who has been charged with Ms Pearce-Stevenson's murder.
Both mother and daughter were believed to be murdered in 2008. Khandalyce's remains were found in a suitcase by the roadside in South Australia.
Her mother's remains meanwhile were found 1,100 km (685 miles) away in the Belanglo State forest south of Sydney.
Ms Pearce-Stevenson was 20 years old when she and her daughter went missing. The two came from Alice Springs in the Northern Territory.
Fairfax Media and the Australian Broadcasting Corporation named the man as Daniel Holdom. The case has been adjourned to January.