Australian miners down tools over black lung fears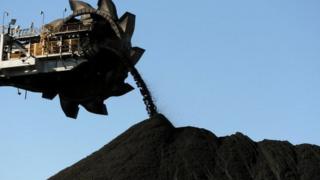 Four confirmed cases of black lung disease have prompted Australian coalminers to walk off the job.
A spokesperson for Anglo American, owner of Queensland's Grasstree Mine, confirmed some workers downed tools on Wednesday.
It is understood that workers may have walked off the job at several other mines.
Black lung, or pneumoconiosis, was thought to have been eradicated in Australia more than 60 years ago.
But on Tuesday Queensland Mines Minister Anthony Lynham confirmed there had been new cases of the potentially fatal disease.
---
What is black lung?
Medically termed Coal workers' pneumoconiosis (CWP) it is a preventable occupational disease caused by prolonged exposure to coal dust.
The name comes from the fact the lung itself appears blackened.
There are two types of CWP - simple and complicated.
People with simple CWP can show few symptoms beyond shortness of breath or coughing, so the irreparable lung damage often goes undetected.
Complicated CWP can lead to progressive massive fibrosis (PMF), with growths in the lungs causing chronic coughing, pulmonary hypertension and heart complaints.
The US paid out compensation benefits to 21,860 former miners over black lung claims in 2014.
---
Dr Lynham told ABC that a study would be commissioned through Monash University to determine the extent of the problem.
But the Construction Forestry Mining and Energy Union's (CFMEU) Queensland president Steve Smyth called on the government to hold a public inquiry.
"We need to shine a light on where the failings in the system are. Whether that's regulation, or safety short cuts by mining companies," Mr Smyth said.
"A public inquiry will give an opportunity for victims, experts, and those in the regulatory process to voice their views publicly."
Mr Smyth said that a Mines Department report in 1983 identified 75 cases of black lung in Australia but was "covered up".
Black lung is caused by prolonged exposure to coal dust.
Anglo American's spokesperson said the company's mines were compliant with dust control regulations and inspected on a regular basis.