Pop star Tina Arena speaks out against ageism at ARIAs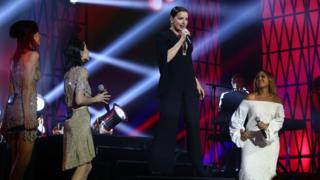 Australian pop star Tina Arena has told commercial radio stations to play more music by older female artists.
The 48-year-old made the comments at the Australian Record Industry Association (ARIA) Awards where she was inducted into the hall of fame.
She was joined onstage by fellow Australian star Kylie Minogue.
The comments came after a well-received performance of her hit single Chains by The Veronicas, Jessica Mauboy and Arena herself.
"I want to still acknowledge that ladies over 40 are still in the game," she said, using Minogue, Madonna, Jennifer Lopez and Annie Lennox as examples.
"Keep doing what you're doing, ladies, because we will decide when it's time for us to stop.
"I do believe radio has been a bit ageist," she later told local media.
"Who decides in radio a woman at a certain point in her life is not valuable?
"There's a big difference between a woman on her 20s and a woman in her 40s who has lived her life. You need to be proud of your age," she said.
Arena rose to fame after her time on the Australian television series Young Talent Time and is one of the country's best-selling musicians.