Naked Australian man arrested for burger theft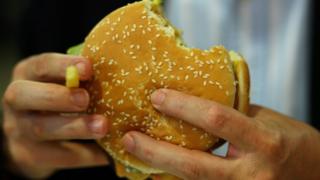 Western Australia police have arrested a naked man accused of rifling through a car and stealing a hamburger.
Police say a man from the remote town of Derby forced his way into a tradesman's car and took the Hungry Jack's Whopper burger.
The tradesman had asked a friend to fly the food from Darwin, 1,700km (1,055 miles) away, local media report.
When confronted by the tradesman, the alleged offender reportedly stripped off his clothes and walked away.
It is unclear why the man removed his clothes.
"It's hot up here but that's no excuse! #eyesburning," Derby police tweeted.
Officers reportedly detained the man a short time later and charged him with disorderly behaviour and stealing.
A separate police tweet said the closest Hungry Jack's outlet was 700km (435 miles) from Derby.