Australia asylum: Nauru review hears 'credible' sex abuse claims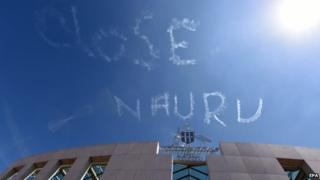 An inquiry into reports of sexual abuse at Australia's asylum camp in Nauru found "credible" claims of assault and harassment.
The inquiry, conducted by former integrity commissioner Philip Moss, found two allegations of rape and others of "indecent assault, sexual harassment and physical assault".
It found no evidence charity workers lied about abuse claims at the centre.
The probe made 19 recommendations, which the government said it accepted.
Australian Immigration Minister Peter Dutton said sexual assault was "not something that we would accept in Australia, and it's not something that the Nauruans accept in their community".
Australia sends asylum seekers who arrive by boat to camps in the Pacific island of Nauru and in Papua New Guinea for processing. Conditions in these camps have been strongly criticised by rights groups.
This review was ordered in October 2014, after Greens Senator Sarah Hanson-Young and media outlets reported multiple allegations of abuse against asylum seekers.
At the same time, the Australian government ordered a group of Save the Children staff to leave Nauru, suggesting they were encouraging asylum seekers to make complaints and even to self-harm.
Save the Children strongly rejected this and, in its heavily-redacted 86-page report, the review noted "that it has not obtained any information which substantiates the alleged misconduct in relation to the Save the Children staff members".
But it found:
Two specific rape allegations had been made - one had been referred to police
Sexual and physical assault were being under-reported for cultural reasons. There were also reported and unreported claims of abuse against minors.
Claims women were forced to expose themselves to sexual exploitation in exchange for showers were "likely to be based on one particular incident"
Claims cigarettes were being traded for sexual favours could not be substantiated, but it was possible Naruan guards were selling marijuana for sexual favours
Many detainees were concerned about their personal safety and privacy
The veracity of detainees' claims could not be established, but the interviewees "were generally credible and their accounts convincing"
It said when formal complaints had been made, camp staff "in the most part" had acted appropriately and referred them where necessary to the Nauru police. But it said processes for responding to allegations could be improved and local investigative resources were limited.
Its recommendations included better training on sexual harassment policy for staff, and improved abuse reporting and investigation mechanisms.
The government says it will address all of the report's points.
---
One woman's story
Shadi (not her real name), is a young Iranian woman detained in Nauru. She has been in touch with BBC Persian's Fariba Sahraei for more than a year, and in February spoke about sexual abuse and harassment.
"I've seen it more times than you can imagine," she said. "It used to be very difficult for me, but I've seen it so often now that I can't feel anything anymore. I've turned to stone."
Shadi said female detainees were targeted by guards. "The guards ask single girls for sexual favours in exchange for clothes, cigarettes or even marijuana that is smuggled into the camp."
But on some incidents, she said, people chose to keep silent.
"There are many Iranian families here… and because of their religion and worries about bringing disgrace to the family many of them don't want to talk about these things."
---
But Mr Dutton, the immigration minister, angrily rejected suggestions from journalists that the report, completed in early February, was released on the day former prime minister Malcolm Fraser died to avoid media scrutiny.
"I think any suggestions frankly from you or from anybody else that this relates to Malcolm Fraser's death, I just find quite an appalling question, to be honest," he told journalists at a press conference in Canberra.