Review calls for overhaul of Australia welfare system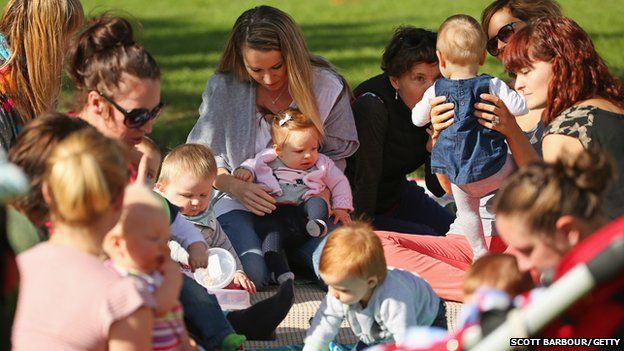 A review of Australia's welfare system has recommended many types of welfare support be abolished and eligibility for disability support be tightened.
In a bid to cut costs, Prime Minister Tony Abbott's coalition commissioned the review in 2013.
The lead author of the report, Patrick McClure, has recommended simplifying the current 20 income support payments and 55 supplementary payments.
However, Mr McClure said no-one should receive less money than they do now.
The government has not yet formally responded to the report. The coalition had hoped that changes to welfare payments would encourage more people back to work.
Speaking at the National Press Club in Canberra on Wednesday, Social Services Minister Scott Morrison said there was no doubt that Australia's welfare system needed to change.
Mr Morrison said the A$150bn ($118bn, £76bn) spent by his department on welfare, including unemployment benefits, child care and the aged pension, was more than the government's combined spending on health and education.
"It is very important to understand that every single benefit paid is paid for by a taxpayer," said Mr Morrison.
He also said welfare was the fastest growing government expense, even when savings in last year's budget, not yet passed by parliament, were included.
Unless major changes were made over the next decade "our social services expenditure will swallow the budget", he said.
He added that spending was increasing fastest for child care, carers and the unemployed.
Mr Morrison said the family home would not be means-tested but said Australia needed to think about how senior citizens could "unlock" the value in their homes.
The family home is not assessed as an asset when old-age pensions are determined.
Another area of concern was getting unemployed parents back to work. He said 12% of children under 14 were growing up in jobless families.
It was also important to reduce childcare costs so that more women could return to the paid workforce.
Currently, dependent children over 16 can receive a youth allowance or a disability support pension, and indigenous children and young people can receive a study allowance.
The McClure report said genuinely independent young people should still be able to get the Youth Allowance but proposed the new "age of independence" rise to 22 and suggested parents with children living at home should continue to receive payments until their child reached this age.