Australia storms: Army deployed in massive clean-up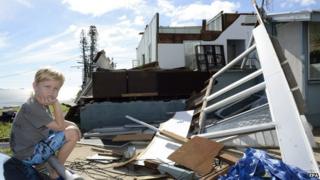 Australian soldiers have been deployed in Queensland to help clean up after a powerful tropical cyclone caused widespread damage in coastal areas.
It is estimated 1,500 homes were damaged and 100 families left homeless after Cyclone Marcia struck on Friday.
About 50,000 homes and businesses are still without power in the towns of Rockhampton and Yeppoon.
Meanwhile, a state of emergency has been declared in the Northern Territory after Tropical Cyclone Lam on Friday.
Lam brought winds of more than 200km/h (124mph) and heavy rainfall to isolated communities in Top End, in the far north of the state.
There were no reports of any serious injuries in either Queensland or the Northern Territory.
However, the repair bill could run into billions of dollars, the BBC's Phil Mercer in Sydney reports.
Long queues
Hundreds of soldiers and army engineers are now in Queensland as the massive clean-up begins.
There has been widespread flooding in the area and further south and inland, with bridges and roads washed away.
Some small towns and regional centres are entering their fourth day without power.
Emergency services are still working to restore power to critical services such as hospitals and sewerage plants.
Long queues have been forming at petrol stations over the weekend, while generators have been installed to keep traffic lights running.
The Queensland government said many state schools that were closed on Friday would re-open on Monday.
Queensland Energy Minister Mark Bailey said it could take at least a week "if not more" to restore power to households and businesses because of the extent of damage to the electricity network.
"Small towns in outlying areas may take even longer for power to be restored," said Mr Bailey.
Crocodiles and snakes warning
Queensland Premier Annastacia Palaszczuk said the federal government had approved financial assistance for personal hardship, reconnection of essential services and for the restoration of essential public assets and infrastructure.
"Immediate personal hardship assistance of up to A$180 ($141 £92) for individuals and A$900 for families of five or more will be made available to those who have been stranded or are otherwise unable to return to their homes," said Ms Palaszczuk.
Queensland police said there had only been one reported case of looting so far - but a number of generators had been stolen in Rockhampton.
Elcho Island off the Northern Territory coast bore the brunt of Cyclone Lam.
Many homes on the island - which has a population of about 2,000 - were destroyed.
NT Chief Minister Adam Giles toured the community of Galiwinku, on the north-east coast of Arnhem Land.
He said that although the storm had passed, local residents had to be aware of other dangers.
"We're saying to people in terms of flood ways, don't drink the water and be very careful," ABC News reported Mr Giles as saying.
"Whether it's for sewage effluent flooding through water, crocodiles, snakes or trees or whatever, be very careful, particularly with your kids," he said.