The rise of Australia's visual effects industry
By Clarissa Sebag-Montefiore
Sydney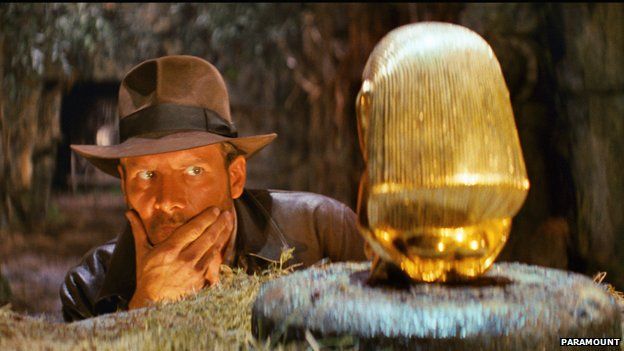 In Bryan Singer's X-Men: Days of Future Past the character Quicksilver pauses time.
Quicksilver - under attack in the Pentagon kitchen - dodges bullets, moving them by hand. They smash instead through the rain, shattering droplets of water. Meanwhile pots, pans, and vegetables hang in mid-air.
Now Rising Sun Pictures, the Adelaide-based visual effects company responsible for X-Men's "Pentagon kitchen" scene, is up for an Oscar for Best Visual Effects.
Tim Crosbie, Rising Sun's VFX superviser, is one of only two Australians to be nominated at this year's Academy Awards, held on 22 February in Los Angeles. The other is David Lee as part of a team nominated for best sound mixing on Angelina Jolie's Unbroken.
X-Men will be pitted against Guardians of the Galaxy, Dawn of the Planet of the Apes, Captain America: The Winter Soldier and Interstellar.
"To be nominated amongst the best in the world is extraordinary," says Tony Clark, Rising Sun co-founder and director. "I don't think we ever really dreamed we would achieve the level of work that we have."
Rising Sun is riding the wave of an industry boom. In 1989, Indiana Jones and the Last Crusade included just 80 visual effects shots. Two decades later the blockbuster Avatar had over 3,000.
"What the industry has now achieved is the ability to deliver complexity," says Mr Clark. "There is nothing that can't be done in computer graphics now, except [convincing] digital humans."
Rising Sun, now celebrating its 20th year, has delivered visual effects in 120 movies, including the scene when the space station re-enters Earth's atmosphere in Gravity.
Now they are working on Tarzan, Pan, and The Gods of Egypt.
Other Australian visual effects companies are also making an impact.
Animal Logic (The LEGO Movie) and Iloura (Ted) are both respected international players. In 2012, US-based Luma Pictures opened a Melbourne office.
In recent years, generous tax breaks and government subsidies have attracted Hollywood to Australia.
Productions need a budget of just A$500,000 ($390,000, £252,000) to qualify for a Post, Digital and Visual effects (PDV) tax credit of 30% in Australia - up from 15% in 2011.
"It keeps us in the game [and] competing internationally," says industry body Ausfilm Chief Executive Officer Debra Richards.
Yet, in a relatively young industry beset by teething problems, even an Oscar has not been able to prevent closure for certain companies.
Just two weeks before winning an Oscar for visual effects in Life of Pi in 2013, American firm Rhythm & Hues filed for bankruptcy.
James Cameron's Digital Domain facility, also an Oscar-winner, had filed for bankruptcy five months earlier.
Their demise raised the question: why are visual effects firms struggling in an era when their work dominates the box office, helping to rake in millions in revenue for studios?
"They were victims of two things: one, the global incentive market and two, a failure to roll with the times," says Mr Clark.
Countries such as Australia have muscled in on an industry once dominated by California. Instantaneous communications has made collaboration across oceans possible.
But Australia has also suffered. The Dr D studios, established by director George Miller of Mad Max fame, closed its Sydney production facility in 2013.
A year earlier Fuel VFX went into voluntary administration before being acquired by Animal Logic.
In Australia, competition from Canada combined with an (up until recently) strong Australian dollar to add pressure to an inconsistent market that lives - or dies - through contractual work.
"Unfortunately our location incentive is not competitive compared with [other] global incentives," says Mr Clark. "It has been quiet in the last few years, particularly due to exchange rates and location incentives."
"You might miss out on an opportunity because timing is everything," adds Simon Rosenthal, head of VFX for Iloura, who cites the industry's cyclical nature as a major challenge.
"That and maintaining the work force here - a high level of expertise is required."
To keep the market competitive, studios often dole out scenes from a single film to multiple companies, who also invest in research and development to stay ahead of their competitors.
Iloura spends about 20% of its time investing in research and development.
Mr Rosenthal calls his team "a bunch of boffins: modellers who build the objects, riggers who build the internal muscle skeletal system, texture artists who apply the surface, animators who make the thing move, FX artists who blow it up".
It's a labour intensive business. For example, a team of more than 60 people at Rising Sun took about six months to create the Pentagon Kitchen scene.
There is a risk that Australia might one day be undercut by India and China. Both countries have thriving film industries and cheap labour costs. Both are now looking at increasing their visual effects know-how.
For now, thanks to a recent fall in the Australian dollar, Mr Clark expects more work will flow here.
Whether or not Rising Sun wins an Oscar on Sunday he hopes viewers appreciate the artistry behind those flying saucepans.
"Everyone thinks it is [just] done by the computer. But everything we do is about people doing things by hand - they are using computers as a tool and a paintbrush."