Tom Uren, Labor MP and icon of Australian left, dies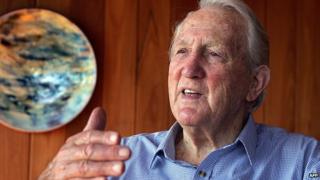 Tom Uren, an icon of the Australian left and a former deputy leader of the Labor party, has died aged 93.
A committed environmentalist, Mr Uren established the Australian Heritage Commission, a government body that managed natural and cultural assets.
He was also a minister under Labor leaders Gough Whitlam and Bob Hawke.
As a PoW during World War Two, Mr Uren witnessed the bombing of Nagasaki - an experience that would shape his anti-militarist views.
He was born in Sydney to a working-class family, and left school at 13. A gifted sportsman, he excelled at boxing and once fought for the Australian heavyweight title.
Mr Uren established the Australian Heritage Commission and created several national parks while serving as minister for urban and regional development in the government of Gough Whitlam in the 1970s.
He grew isolated as the Hawke administration - in which he served as territories and local government minister - adopted market-friendly policies.
Bill Shorten, the leader of the Labor opposition, said Mr Uren had "helped build a better country".
"I think he will be most remembered as a protector of the working class, as a champion of equality."