Bail granted for Sydney 'brother punch' accused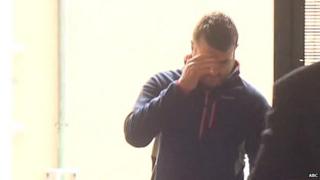 A man from Northern Ireland accused of critically injuring his brother with a single punch while he was on holiday in Sydney has been released on bail.
Barry Lyttle, 33, from Ballycastle, is accused of punching his brother Patrick, 31, after a disagreement.
His younger brother suffered a serious head injury and is now on life support in Sydney's St Vincent's Hospital.
Barry had travelled to Australia to see his younger brother along with their father Oliver, who was also in court.
In a hearing at Sydney's Central Local Court on Monday, the accused was ordered to stay with his aunt in Blacktown and not to drink alcohol.
Barry Lyttle will also be required to surrender his passport and report weekly to police.
He was charged with recklessly causing grievous bodily harm.
His lawyer indicated that Barry wanted to spend most of his time on bail by his brother's bed.
The incident took place in Sydney's Bayswater Road shortly after 03:00 local time on Saturday.
Police said that alcohol did not appear to be a factor in the alleged assault.
Patrick is reported to have been staying in Australia for some time before the arrival of his brother and father.
Online posts from before the incident show both brothers looking forward to their reunion.
The pair's father, Oliver, told local media that the brothers "have loved each other from when they were kids".
A police spokesman said the incident was "a tragedy".
"We now have a father who is facing the reality of one son facing serious criminal charges and another son fighting for his life" NSW Police Insp Michael Fitzgerald said.
Barry Lyttle is next due to appear in court on 20 January.