Winds fan multiple bushfires in north-east Victoria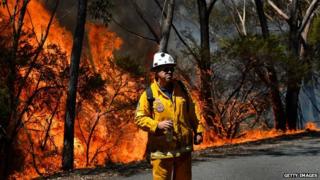 Multiple bushfires are burning in Australia's Victoria state, fanned by strong winds and high temperatures.
The fires are affecting the north-east of the state, including one close to Boweya, near Wangaratta.
Early on Wednesday, the Country Fire Authority issued an emergency alert over the blaze but that has since been downgraded as the spread of the fire has slowed.
The state fire chief says some property and stock losses have been reported.
Damage to a winery has been reported in one area.
"We're still trying to assess what we've lost," said Fire Services Commissioner Craig Lapsley. "In the north-east we believe we've had some impact on some houses, but we still need to assess that."
Weather conditions had improved on Wednesday after Tuesday's high winds, he said.
"On the Thursday the weather will be up again and in high or severe fire danger rating, so today is the day for us to catch up on the fires," he told ABC News.
High temperatures and below average rainfall this summer are expected to create dangerous bushfire conditions across Australia.
Experts have said that Australia's worst state for bushfires, Victoria, should prepare for a dangerous season.