Sydney cafe siege: Australian media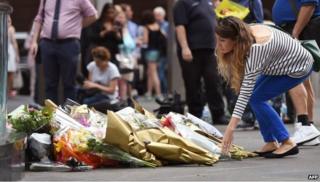 The siege of a cafe in the Australian city of Sydney has ended, with two hostages dying when police stormed the premises. Australian media have been pondering the hostage-taker's motives and wondering how the incident was able to happen, but it also warn of the dangers of jumping to conclusions.
The hostage-taker, identified as Man Haron Monis, was a known Islamist extremist and violent criminal, whom Prime Minster Tony Abbott said "sought to cloak his actions" with the symbols of the Islamic State (IS) militant group.
John Blaxland writes on ABC's The Drum that this "bizarre incident and the strange circumstances raises more questions than it answers".
"There is a growing popular inclination to see this as part of a global initiative - an existential threat to the world under siege from fundamentalist Islamist extremism," he writes.
"Yet it is vitally important to avoid simply defaulting to this view," he says, cautioning against "shrill or emotive reactions", and noting the strong condemnation of the siege from the Australian National Imam's Council, even while it was still going on.
In the Australian Guardian, Anne Aly says that Monis was "at the very least unstable". But she says that by calling him a terrorist "we give him exactly what he wanted: recognition, renown and the attention of the world media".
"We also feed into any possible claims by the Islamic State that this attack is a demonstration of their ability to cause terror in Australia," she writes. "This is their propaganda machine, that we need to challenge in every respect."
'Prejudicial myths'
Peter Hartcher, political and international editor of the Sydney Morning Herald, says Australia's media and politicians "need to get better at measured reaction" to such incidents.
"One man showed how to get extraordinary attention and inflict serious disruption using only a gun and a Muslim prayer banner," he writes, accusing politicians of being too quick to use words like "horrifying".
"Why do political activists turn to terrorism? Australia gave the world a lesson today. They turn to terrorism to win attention, to cause fear, and to use that fear to produce an overreaction. That overreaction is the measure of their success."
Writing for The Conversation, Julie Posetti - a journalism lecturer at the University of Wollongong - said the reporting of the story had the "potential to do significant harm to Muslim Australians if it is mishandled, through the magnification of inaccurate information, prejudicial tropes and myths".
She singles out the Daily Telegraph for criticism, saying its headlines "Death Cult CBD Attack" and "The instant we changed forever" were a low point in the media coverage.
"The fact that he displayed an Islamic flag did not justify the Telegraph's unverified and highly inflammatory headlines," she writes.
Buzzfeed has also picked up on the Telegraph page, noting the criticism its owner, Rupert Murdoch, received for praising the front page with a tweet saying "Congrats".
Also in The Conversation, lecturer Craig Mclean says that with the siege over, questions now begin about how it could happen.
"If this transpires to be a terrorist incident - and that is still a large 'if' - then it is one that would strike at the very heart of Australia."
He adds: "If such an event can happen in the central business district, where 99 CCTV cameras are in operation, this incident will certainly raise questions about wider security in Australia."